August 2022 COVID update: COVID-19 (and the policies that attempt to control/stop it) has hit all businesses hard. As I write this in Michigan, staffing jobs, maybe especially seasonal jobs, is incredibly difficult. So PLEASE BE PATIENT with the people who actually are showing up for work and trying to serve you. And almost everything here could be wrong. Where I know of updates, I have added a note like this below. But as of August, 2022, things are very slowly getting less weird.
Nick's Michigan's Upper Peninsula Travel Guide
I love vacationing in the Michigan's Upper Peninsula, and I often have friends looking for suggestions. So after putting this together for e-mail a few times, figured I should just put it on my website.

This is unabashedly aimed at people traveling from the Detroit, MI area, though may be useful for people from anywhere.

This is also aimed at people traveling by surface vehicle. Flying is how to GET somewhere, driving is about the journey. I have very little experience boating, though I could imagine spending a lot of time and money traveling around (literally!) the UP by boat. Would be fun (and terrifying -- Lake Superior is about as close to an ocean as you get without salt).
On the way
When leaving Detroit a good stopping point if you don't get all the way to St. Ignace: West Branch: We've stayed three times at the Quality Inn at West Branch, which is right off I-75 exit 212. First time was an accident -- got a late start, weather was horrible, decided to quit for the night and resume the trip in the morning. Last few times (including lunches without a stop) were deliberately planned because we enjoyed the place so much. Decent rooms, and the Lumber Jack restaurant with the motel is fantastic for breakfast, lunch and dinner. About three hours from Detroit. Next door to Tanger Outlet Center, we will not be held responsible for blowing the vacation budget before crossing the bridge.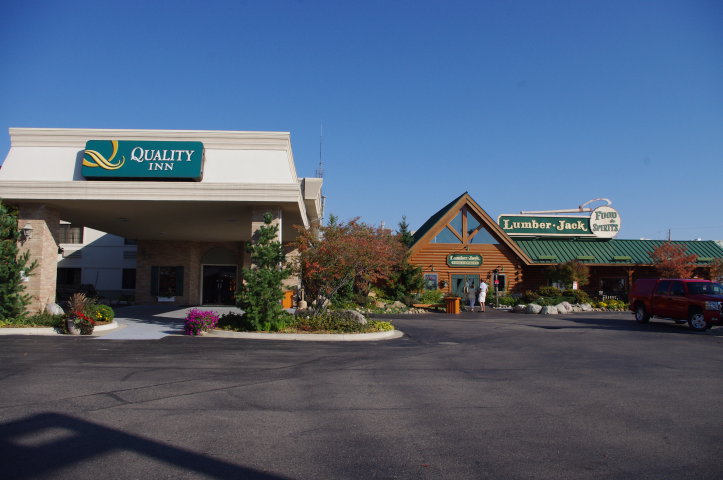 Mackinaw City: We've never actually stayed in Mackinaw City, though we often pause there on the way. There's a nice park under (literally!) the bridge, you can stick a foot in Lake Huron..or Lake Michigan, or as Paula and I like doing, one foot in each: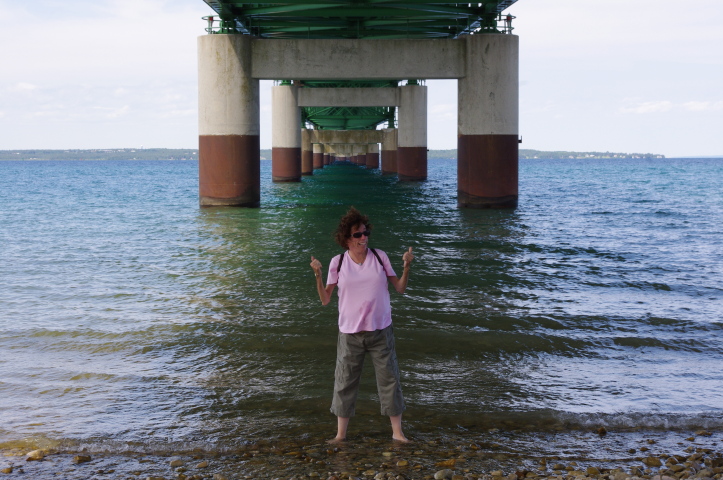 There's also a lighthouse you can tour, including going up to the light tower. It is a fascinating glimpse of a different kind of life, though to really understand it, you must remember the rest of the town didn't exist, nor did the bridge, the freeway, or any way to get access to the rest of the world should you run low on...well...ANYTHING. And you must have experienced a Yooper Winter...
Bridge park: free. Lighthouse: charge (don't recall what)
Hint: the spiral staircase leading up to the light tower is somewhat...well, terrifying. The tower is very solid, there's no swaying or anything...it's just a long spiral staircase, which I (and Paula) found somewhat discomforting and claustrophobic... Going up...scary. Down, scary. Up in the tower, not bad, other than knowing that at some point, you have to head down. But...worth doing.
Yes, I don't consider a trip to the UP having "started" until you cross The bridge.
Something worth knowing/remembering. There's a spelling difference between some of the things called "Mackinaw"
Mackinaw City
Mackinac Bridge
Straits of Mackinac
Mackinac Island
It may be that the City of Mackinaw wanted to minimize postal carrier confusion between the city and island. But however it's spelled, it's always pronounced as "Mack-in-aw".
The Mackinac Bridge
The Mackinac Bridge is the third longest suspension bridge in the world. This freaks a lot of people out. I've been across the bridge in winter storms and in strong crosswinds on a motorcycle. It can be ... "interesting" but only one car has ever gone over the bridge, and no motorcycles. They do a really good job of closing the bridge when the weather is bad, but you want to go slowly. However you don't want to stop.

If you really can't go over the bridge on your own, they Bridge Authority does offer a service where they get you and your car across the bridge without you driving. I don't think this works for motorcycles.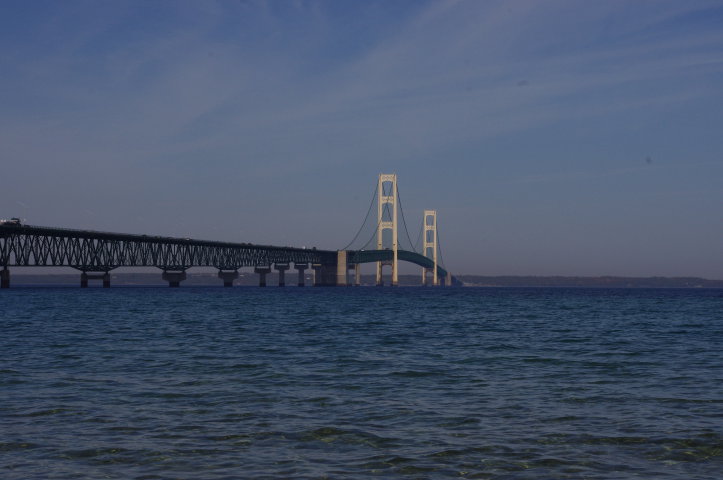 The U.P. (Upper Peninsula, or Yooper Land)
St. Ignace: Paula and I really love this town. At one point, there were t-shirts and signs reading, "St. Ignace: a drinking town with a fishing problem". But still...it's a nice place. Very tourist dependent, but also appears to have a little life of its own beyond tourists.

Right after you cross the bridge, you come across the US-2 exits. West takes you deep into the UP, East takes you to downtown St. Ignace. Not taking either exit leaves you on I-75, next stop, Sault St. Marie! I'd suggest the East exit.

We like to stay at the Quality Inn Lakefront, in large part because their rooms are quiet, their prices are good, and they seem to know who we are, and often give us hot tub rooms. Though really, we've not been disappointed by any of the places we've stayed there, bang-for-the-buck-wise, at least. Driftwood was small, older stuff, but dirt cheap, and seems to be a favorite for motorcyclists and snowmobilers. There are many places to stay in St. Ignace, but some do close in the winter months. We have since stayed at the OTHER Quality Inn in St. Ignace -- from memory, it used to be called "Quality Inn Bridgeview" or something similar, very near the Mackinac Bridge. Open year round, we were very satisfied with it as well, other than not being walking distance from Java Joe's.

Places to eat/go/etc/:

Java Joe's: Run by a guy named Joe, a guy you don't know, but will be friends with about two minutes after meeting him. Actually in peak season, maybe not, as the place will be too busy for Joe to get too personal. Great place for breakfast, though when busy (which is "usually"), it tends to be slow, so don't be in a rush, enjoy the teapots, the art, the people. Forget diets, fasting, etc. Besides, you will be doing some walking later. Easy walk from Quality Inn Lakefront. Open year round, more or less, though hours vary over the year.
October 2021 COVID update: as of early October, Java Joe's is seating at only 50% of their already small capacity, so wait times are long and the wait is outdoors. Decide accordingly.
July 2022 update: Might be best to consider Java Joe's a destination rather than a step on the way to destination. Something to see, but you will probably miss your motel checkout time.

Jose's Cantina: Great Mexican food (ok I may not be an expert on Mexico or its people's food, but I enjoy it!) They've bent over backwards to take good care of us. Also an easy walk from Quality Inn, Lakefront. October 2021 COVID update: seating at capacity, very short staffed, but we were stunned how fast they brought out our food. July 2022 update: has been sold to the chef, food is as good as ever, staffing seemed good, was busy when we were there on a Thursday evening, but good service.

Driftwood: Restaurant/Bar/Motel: Good food, good people. Motel is spartan, but cheap...and obviously loved by motorcyclists, snowmobilers, etc. It is usually the first place in town to put out the "No Vacancy" sign, but they will still happily serve you food. They have ALSO bent over backwards to take good care of us at the restaurant.
October 2021 COVID update: I've been told their salad bar, one of our favorite features there, is suspended for now. July 2022 COVID update: We spotted a "Breakfast Bar Saturday and Sunday" so I'm guessing they may have their salad bar back. We did not verify.

Fireworks: Apparently, St. Ignace has fireworks displays on Saturday Nights throughout the summer. We have managed to never be there on a Saturday night in the summer.

Mystery Spot: Blatant tourist trap, basically a "disorient the heck out of you, and make you wonder why water appears to be flowing up hill and why are you able to walk on this wall?" kinda place. Expensive for what it is, but if you have never been to one of these places, you should. There is no magic, there is no mystery (once you figure it out), but there is fun to be had. Maybe an hour total.
(no, the laws of physics aren't really suspended, but much of the fun is figuring out how they do what they are doing)

Cut River Bridge, 25 miles on US-2 West of St. Ignace: You actually get to walk along...and UNDER the bridge. There's a good barrier against traffic, but you WILL know when a truck goes by you at 50MPH just a few feet away. If you want to hike, you can walk all the way down to the river. You do not cross US-2 -- you go down a staircase on one side, cross under US-2, pop up the other side, walk along the road (in the barricaded sidewalk) to the other side...quite fascinating. A little scary. Rather unique. Probably can spend as little as 15 minutes there, and if you want to walk down to the river or lake, could probably spend an entire day. I drove over this bridge many many times with no idea how interesting it was until I was told to look at it by Java Joe. The bridge is 147 feet over the river! I never would have dreamed that, I usually thought of myself at being "near lake level" when driving over it. If you end up on US2, I really recommend stopping here, it's very different and free. You can park on either side of the bridge. disclaimer: We haven't actually walked the bridge in quite a few years. I *think* things are as they were, but there was a huge number of years where it seemed to be under perpetual construction, not sure what the end result is.

Lake Michigan Beaches along US-2: Between St. Ignace and the Cut River Bridge, US-2 hugs Lake Michigan, with some very very nice beach front between the road and the lake. We are talking about TWO MILES of beach here...and you can pull your car over to the side of the road and get out and play in the lake or on the beach. Many of them face west, if you get a chance to watch the sunset over Lake Michigan, it's highly recommended. About 11 miles west of St. Ignace.

Lehtos' Pasties: This is one of the (debatably) highest regarded UP Pasties around. On US-2, about six miles west of St. Ignace. They sell 'em warm, cold, frozen. Get a few warm, then eat on the beach (don't forget the ketchup. While some like gravy on their pasties, supposedly ketchup is more authentic Yooper. Opinions on that vary, too.) and some cold or frozen ones to take home. They also have a storefront in St. Ignace, now.

Mackinac Island: Fun boat ride. Some people love the romance of a town with no motor vehicles (other than golf carts on the golf course, and construction equipment). Lots of shopping, lots of fudge shops. Personally, the smell of horse poop makes me miss my car horribly. Hint: don't step in any puddles. ("Why not?". Paula asked me. "Because it hasn't rained recently". "Oooohhh!!!!"). There are three two ferry services (R.I.P. Arnold Line) to the island, they are careful to make sure they are all the exact same time in transit, and I believe the prices are pretty darned close, too. You can spend anywhere from an hour to several days on the island (I imagine you get used to the smell eventually). Some call it one of the Jewels of Michigan. I say "horse shit". If you have never been there, you should go. I'll admit my obsession with the smell is seemingly a minority opinion (and they DO have a small army of people cleaning up after the horses, so it isn't like it's a rotting cesspool. Just stinky). Note, you can get to Mackinac Island from either St. Ignace or Mackinaw City. I like crossing the bridge, so I've never had any thought of going from Mackinaw City. It seems a lot of people do NOT like to cross the bridge, and thus, have never thought of crossing from St. Ignace.

There is a new Mackinac Island ferry option -- Star Lines has a has a "historic" ferry, much slower and somewhat cheaper than the usual choices. As I enjoy the boat ride more than the island, this would be my choice. Worth checking out. We did on our last trip, turned out the "slow boat" only runs during peak season, when we went last in early September, it was done for the season.

On our last trip, we took a horse-drawn tour around the island. This was definitely worthwhile. And the smell was, for unknown reasons, far less than I ever remember it being -- maybe there was a good wind.

And yes, we've actually taken the boat to the Island, spent 15 minutes on the island, and hopped back on the next boat back. I do enjoy the boat ride.

Soo Locks, Sault St. Marie: This is a U.P. Must See. When you get to the Soo Locks, your first indication of anything interesting may be a very large building...which you realize is moving, either side to side or up and down. That's no building, that's a ship in the locks. There's an observation platform where you can be as little as 30ft from a 700ft long freighter (somewhat further from the 1000ft freighters). Some days, you will have to wait to see a ship, other days, the ships will be stacked up waiting to use the locks. If you don't see a ship when you get there, first stop should be the visitor's center to find out when the next ship is planning on locking-through. If soon, get out there and watch the entire process. If not, tour the visitor center, learn how the locks work, how they were built, etc. If really not soon, wander up and down the main drag opposite the locks, lots of fun shopping, eating, etc. Paula and I usually do day trips into the Soo, usually either moving on to Tahquamenon Falls or back to St. Ignace, but day or days could be spent in the Sault. St. Ignace -> Soo Locks -> Tahquamenon Falls -> St. Ignace is a doable, though long day.

The best parking in Sault St. Marie is with meters, have a pocket full of quarters...though if I recall properly, $2 in quarters will cover you for a whole day. There is free parking, but if you see a ship locking through, park close, stuff the meter with money and run!

There are two locks currently in use -- the MacArthur Lock, which is closest to the observation deck, which supports only the smaller ships (less than 800ft long, 80ft wide), and the Poe Lock (hey, I didn't name it, I'm just saying what they call it) which supports the 1000ft freighters. They are in the process of rebuilding the other two, basically abandoned locks to be a second 1000ft feigher capable lock. Unfortunately, this new lock will be further away from the observation deck. It is the right design decision, but I'm not happy about that.

Things to look for while watching a boat lock through:

Front of the ship -- you will often see a burst of water disturbance at the very bow of the ship, sometimes accompanied by a burst of diesel smoke coming from a small stack at the front(!). That's a bow thruster -- almost all lake freighters now have them, either when built or retrofitted. It's a 500-1500hp electric motor that blows water either direction through a hole in the bow, that allows the nose of the ship to be positioned accurately at very slow water speeds (i.e., in the lock).

If watching the water rise in an empty lock, look for eddies in the water, that's from the water inlets/outlets that run the entire length of the lock (why not just at one end? they want the water LIFTING/LOWERING the ship, not pushing it forwards or backwards in the lock.

Note the booms, like crossing gates, at both ends of the lock. I rather doubt the gates themselves would stop a run-away freighter, but I have been told there's a cable in the gate that is attached to a set of "brakes" in the lock that would end up squeezing the side of The freighter if it rammed the gates. Or that might be totally bogus.

When a freighter is right in your face, note the self-unloading boom ("self-unloader") -- often around 200-250ft in length, swings out to unload cargo quickly. Most, but not all, lake freighters have self-unloaders...most have the boom, though there are a few oddballs out there that have other mechanisms (and are thus restricted to which ports they can dock at).

get pictures of all freighters you see, including their names. Look 'em up on boatnerd.com to learn more about them. And I'll want to see what ones you saw. :) Keep an eye out for the Stewart Cort. If you see it, wave to it for me. It's the Great Lakes first 1000ft ship, I've seen it four times in my life -- once when I was about seven years old, on its maiden voyage past Port Huron, and not until just a few years ago several times at the Soo Locks. It has one of those odd self-unloaders, and thus never comes down Lake Huron.

There are Soo Lock Boat Tours, both "simple go through the locks, sometimes on your own, sometimes WITH a big freighter", and a "dinner cruise". We have not yet managed the dinner cruise, the lock tour was great. Recommended.

Little secret: Mackinac Island is known for the fudge shops, but if you want really good fudge, other places will spend more time doing quality over quantity. Paula doesn't like fudge, and she doesn't like dark chocolate, but we got some dark chocolate fudge in Sault Ste. Marie across from the locks which beat the heck out of anything we have had on the island. The young man who was making it told us that it's all in the time and effort that goes into the work -- if you rush, you get "grainy" feeling fudge. It appears he is right. Paula consumed much of the fudge I bought just for myself!

Point Iroquois Lighthouse: You can hit this between Sault St. Marie and Tahquamenon Falls. It's another lighthouse tour, similar to the Mackinaw City lighthouse, but a lot less people there. What I said about the spiral staircase in Mackinaw City applies here..and then some, as this is a tighter spiral. Once you get to the top, quite a view.



Getting here from Sault St. Marie requires hugging Lake Superior, probably a longer drive than dipping down to M28 then back to M123, but we found it a fun drive...and tripped across this light house in the process.

Tahquamenon Falls: There are actually TWO stops -- the upper and lower falls. You want to go to both. If you paid the $10 extra for your Michigan license plate, free admission to this state park. At the lower falls you can rent a canoe and paddle out to an island to see the lower falls from the other side (under the falls...you won't be going over them in a canoe you rent there). The lower falls are a bunch (four or five) of smaller falls, the upper falls is one really big, impressive falls. Tourist-trappy stuff at both, more at upper falls, iirc. Lots of walking, and good hiking opportunities, if you are into such things. There are two long sets of stairs you can take at the upper falls. One puts you near the edge of the falls, the other puts you at lower river level a long ways from the falls. The stairs near the falls are worth taking, the ones further away...I don't think so (though if you were going to hike around the area, I believe the other stairs were a better start/end point). Apparently, you used to be able to walk BEHIND the upper falls, not permitted any more (supposedly. Someone I shared this info with told me he walked behind the upper falls. Life is dull when you follow the rules). Getting to Tahq falls is a long drive, it is in the middle of not-much, and no roads go directly there and back..it's a long, looping, and if you don't have a map or GPS, confusing drive.

I find the late afternoon sun less than optimal for viewing the falls (you end up looking into the sun), so my recommendation is to get there before the sun gets too low.

Grand Marais: Located on the northern coast of the UP, we found this town by accident -- and gassing up the motorcycle, Paula walked around and found an amazing view, and told me, "We are coming back here!". Turned out to be harder than expected, this is a tourist town, and there's a shortage of places to stay and eat (and they may like it that way). MAKE RESERVATIONS. Don't be in a rush, either. The one diner that was open for breakfast when we were there had one guy working the kitchen (no one else was allowed), and the wait was non-trivial. When we walked in, the waitress told us they had only one, four-person table available, and asked if we would be willing to share it with the next couple that walked in. I turned around, saw a couple, and said, "Like them?" "No, you don't want to eat with him," she told me. We had a great time, though with this couple, who was a part-time resident of the area. Which is good -- it took close to an hour for us to get our food. One item on the menu was the "K.N.O.W. Omelette" -- you tell the waitress what you don't want in it, and the owner/chef knows best what you will enjoy based on what he's got available at that moment, and he'll make you what he feels like! The owner/chef, when things get busy like they were when we were there, batches food to get the most total number of people served as rapidly as possible -- but that means YOUR table will probably get its food delivered one person at a time, with quite a gap between.

If you are in a hurry, you are probably not wanting to be in Grand Marias. But that's ok -- it's not "on the way" between places anyway. You meant to go there, so enjoy it. Besides, as a Yooper friend once told me (and I probably needed to hear it), "What's your hurry, eh?"

Between Grand Marais and Munising lies the road H-58, which is a long, twisty, completely not-shortest-distance-between-two-places road. I've heard H58 compared favorably with the "Tail of the Dragon" at Deals Gap, North Carolina. It was recently (as of my writing in 2018) paved, so it's in excellent condition, and a lot of fun for motorcycling. Big RV or trailer? Maybe not so fun.
Western UP
So far, I've mostly covered the eastern UP, I have LOTS to say about the more Western UP, but I haven't got it done yet. But here are a few points:
Biff's Military Surplus: Yea, I know, there are a lot of military surplus places in the world, and some much bigger than Biff's. But the small size is part of the fun here, a lot less overwhelming, and handy. And definitely some real military surplus, not just "camping supplies" (and new stuff, too). We tend to stop there every time, and we usually add a few things to the back of the car or motorcycle every stop at Biff's. Reason to go to the UP? No. Good 20 minute stop? yep. Just East of Munising on M28.

Munising: Take the Pictured Rocks boat tour. Not sure I'd recommend staying in Munising, however. We tried to stay a couple days once, we really ran out of things to do. We've been told the residents aren't really fond of how they have become a tourist town. October 2021 update: Our favorite ice cream place is now a pot house. One good restaurant is closed, another is a pot house. Other than Pictured Rocks, I'm honestly not seeing a lot of reason to stay here, and we seem to have lost our two reasons to pause on the way. Now, if you like getting high, well, maybe this is where you want to be.
Lakenenland: a sculpture park, privately run and owned. Tom Lakenen has a chunk of land, and builds stuff on it, and lets people enjoy it. For free! Walk around or even drive around, though you will probably want to step out of the car and look closer at times. 24x7x365. Very unique place. Website: https://lakenenland.com/ About ten miles outside of Marquette. Literally no reason, other than "out of time!" not to stop here. Wheeled vehicles not allowed around the sculpture during the winter, I suspect snow and ice will be the primary enforcing agent on that rule. You probably want a bit of ground clearance on your vehicle if you want to drive around the art.

Marquette: while much of the UP is tourist trap and history, Marquette is a functioning iron mining town still. There's a bit of everything here, we had a very good Cajun meal at a restaraunt in a basement in Marquette. Special shout-outs to Bald Eagle Harley Davidson and Mr. Wrecker for taking great care of us when our motorcycle had problems 300 miles from the nearest supporting dealer.

Yooper Tourist Trap: About 15 miles past Marquette in Ishpeming. The most honest place about the goal of separating you from your money. Worth a walk through, lots of fun.

Trenary: Just off US41 between Marquette and Escanaba, near the exact middle of the Upper Peninsula is the tiny town of Trenary, noted for two things -- Trenary Toast and ... outhouse races. As far as I am aware, these two events are unrelated. Trenary Toast is a curious creation of cinnamon toast that is sold in paper bags and has the curious trait of not going stale. It has a rated shelf life of a year, but I've heard stories of someone finding a bag of it in their hunting cabin that hadn't been used in four years ... and it was still good (test: break a piece. if it snaps audibly and visibly, it's good). The Trenary Home Bakery is the retail outlet for the toast making group, but also has home-made cinnamon rolls and many other things. Great stop on US41.

Had a nice chat with the person working at the bakery, and then the owner of the Bakery, who did willingly share the secret chemistry of the never-stale Trenary Toast, but I'm not telling you here. hahaha! Paula wanted to understand the small-town life of Trenary. The person running the bakery told us, "it's really not that big a deal -- Munising, Marquette and Escanaba are all about thirty minutes away". Geographically, sure, that's a distance, but if I want to go to a big hardware store or grocery store, I have a 20+ minute trip, myself. Nowhere near as much distance, but much slower roads and much more traffic in the way.

The Outhouse Races are a lot of fun, too. Yes, people build outhouses, on skis, which are pushed down a snow track by two people. Some people are there to win, some people are there to be seen, some people are there to raise interest and money for their causes. Large amounts of fun and toilet humor, as you can imagine.

Keweenaw Peninsula: This is my favorite part of the UP, if you think this is long so far, I could write many times this on just this little chunk of the Upper Peninsula. This is Michigan's historic Copper Country -- the only place in the entire world one can pick up a rock and see RAW, recognizable copper (and with a lot of luck, patience and some idea where to look, sometimes still can). The mines were so rich that the WASTE ROCK had more copper in it than the "prime" ore they pull out of the ground today from other parts of the world. There are a few old mines tourists can go through -- highly recommended. The place is just loaded with history and historic ruins. A trip to Copper Harbor via M26 is recommended -- plan on stopping in Eagle River, The Jam Pot, any/all of the road-side waterfalls, go up Brockway Mountain Drive...

The Library: One of our "Must Stop" places is a restaurant called "The Library" in downtown Houghton. When I went to school, it was a dark and smoky bar. Now it's an open, airy place with the most amazing soup -- Swiss Onion. Nothing like French Onion. A lot of old-timers will say "it ain't the same as The (old) Library", I agree, I like the new one much better. Some of my old-timer friends think I'm insane for saying that. Whatever.
Other recommended places in Houghton are Victoria's Kitchen and Soumi Restaraunt.
In Copper Harbor: Harbor Haus. Well, I'm putting this here because some people I respect really love this place. It's expensive "fine dining", though casual dress -- wine, salad, expensive meal, desert. It is not what I like when traveling. Been there twice, both times, impressed by the price more than the food. Yet, I know someone who considered it the greatest place to get a meal in the world. Isn't the world wonderful that people can have differing opinions?
Much of the fun in the UP is a "Copper Country Cruise", which every cruiser has their own definition of, but for me, they usually origin in Houghton, cross the bridge to Hancock, and end up in Copper Harbor. There are a number of fun roads that connect between the two places, though.
US-41: yes, this road extends all the way to the southern tip of Florida. This road goes more-or-less through the center of the Keweenaw, and if Copper Harbor is your goal, it's the fastest route. Passes through Calumet and Laurium.
M203: If you "turn left" at Hancock, you can take M203 along the northern shore of the Portage Canal, past McLain State Pari, and then to Calumet/Laurium, and reconnect with US41.
M26: If you "turn right" at Hancock, you take M26 along the Portage, past Dollar Bay and Torch Lake (which is connected to the Portage). Lots of interesting mining ruins, including the Quincy Dredges. Ultimately takes you back to US41.
Cliff Drive: This bypasses a chunk of US41 north of Calumet, south of Phoenix. If you are in a hurry, don't do it. If you are not into rough dirt roads, don't do it. If you want to see some trees, go for it. There was some very early mining operations along there, most of it is hidden by trees, but there are signs. Might be hikable, if you are into hiking. Road is sometimes very decent, other times, horribly wash-boarded. Be prepared to turn around and head back out if it gets too bad for your desires. I've motorcycled it without issue, and I've also turned around in a car. Taking this route causes you to miss the Keweenaw County Snow Meter on US41.
M26 along Lake Superior: At the tiny town of Phoenix, Michigan, M26 splits off from US41 and heads towards Eagle River. Unless you are really in a hurry to get to Copper Harbor, I'd suggest turning left and taking this route. The view is spectacular, the roads are twisty. There's a beach you can pull off at and swim in maybe the only occasionally warm bay in Lake Superior. Really recommended for motorcyclists. Speedlimit is mostly governed by physics and visibility.
Brockway Mountain Drive: Just past Lake Bailey, there's an "exit" from M26, which heads "up". The first many miles of Brockway Mountain Drive are very "eh" -- sub-optimal roads, lots of trees, but not much else to see. But your ears will be popping to confirm that yes, you are going up. You will probably spend the first few miles wondering why I suggested following this...and suddenly, you will hit the top of Brockway Mountain and understand. Breathtaking view. In cloudy weather, you will often be in or above the clouds. In fall, you will see a lot of colorful trees from above. The trip back down hill to Copper Harbor, you will want to make friends with the lower gears in your vehicle, rather than riding the brakes all the way down. If you can get to the top of Brockway Mountain on a clear dark night, the view of the stars is breathtaking, but be aware the reason it is this way is that there are NO STREET LIGHTS, you will be navigating twisty narrow roads in complete darkness. Slow and easy. But SO worth the trip (so THAT'S what the Milkyway looks like!). The problem with Brockway Mountain Drive is it bypasses some of the best views on M26, so one obvious solution is to go TO Copper Harbor via one route and back south via another route. Or do what I've done several times: go from Eagle River to Copper Harbor by M26, then turn around, go back to the "Southern" (Western, actually) entrance to Brockway Mountain Drive, take it back to Copper Harbor, then turn around and take it back down. Totally inefficient, but for me, it's more about the trip than the destination. I'd consider this a "must do" trip for motorcyclists, but it isn't a no-skill ride. The roads are rough and the turns on the part between the top of the mountain and Copper Harbor are tight.
Other than Brockway Mountain Drive and probably Cliff Drive, all these roads are kept passible year-round. I did a lot of driving up there in a very old rear-wheel drive car, they really do handle the snow well up there.
Things to see in the Keweenaw: