Nick's Michigan's Upper Peninsula Travel Guide
I love traveling and visiting the Michigan's Upper Peninsula, and I often have friends looking for suggestions. So after putting this together for e-mail a few times, figured I should just put it on my website.

This is unabashedly aimed at people traveling from the Detroit, MI area, though may be useful for people from anywhere.

This is also aimed at people traveling by surface vehicle. Flying is how to GET somewhere, driving is about the journey. I have very little experience boating, though I could imagine spending a lot of time and money traveling around (literally!) the UP by boat.
On the way
When leaving Detroit a good stopping point if you don't get all the way to St. Ignace: West Branch: We've stayed three times at the Quality Inn at West Branch, which is right off I-75 exit 212. First time was an accident -- got a late start, weather was horrible, decided to quit for the night and resume the trip in the morning. Last few times (including lunches without a stop) were deliberately planned because we enjoyed the place so much. Decent rooms, and the Lumber Jack restaurant with the motel is fantastic for breakfast, lunch and dinner. About three hours from Detroit. Next door to Tanger Outlet Center, we will not be held responsible for blowing the vacation budget before crossing the bridge.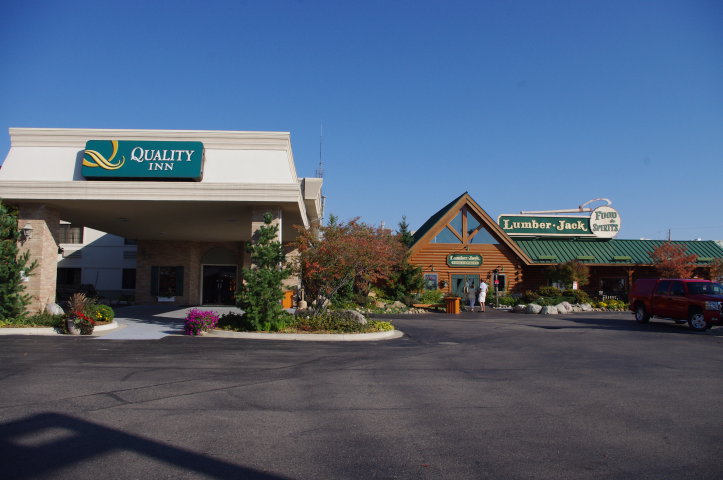 Mackinaw City: We've never actually stayed in Mackinaw City, though we often pause there on the way. There's a nice park under (literally!) the bridge, you can stick a foot in Lake Huron..or Lake Michigan, or as Paula and I like doing, one foot in each: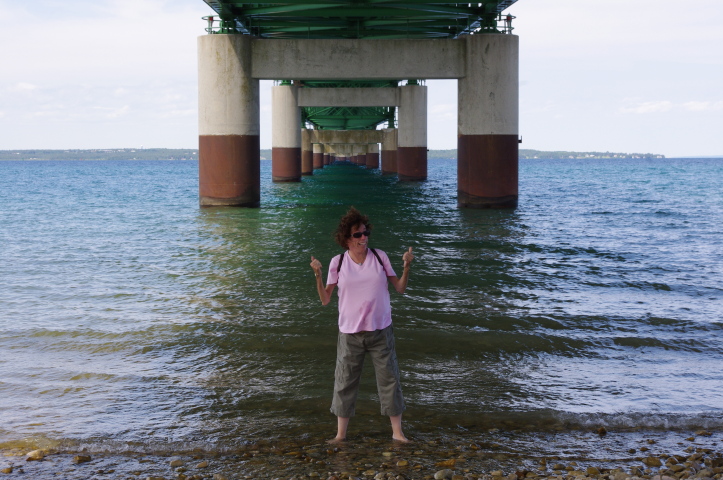 There's also a lighthouse you can tour, including going up to the light tower. It is a fascinating glimpse of a different kind of life, though to really understand it, you must remember the rest of the town didn't exist, nor did the bridge, the freeway, or any way to get access to the rest of the world should you run low on...well...ANYTHING. And you must have experienced a Yooper Winter...
Bridge park: free. Lighthouse: charge (don't recall what)
Hint: the spiral staircase leading up to the light tower is somewhat...well, terrifying. The tower is very solid, there's no swaying or anything...it's just a long spiral staircase, which I (and Paula) found somewhat discomforting and claustrophobic... Going up...scary. Down, scary. Up in the tower, not bad, other than knowing that at some point, you have to head down. But...worth doing.
Yes, I don't consider a trip to the UP having "started" until you cross the bridge.
Something worth knowing/remembering. There's a spelling difference between some of the things called "Mackinaw"
Mackinaw City
Mackinac Bridge
Straits of Mackinac
Mackinac Island
It may be that the City of Mackinaw wanted to minimize postal carrier confusion between the city and island. But however it's spelled, it's always pronounced as "Mack-in-aw".
The Mackinac Bridge
The Mackinac Bridge is the third longest suspension bridge in the world. This freaks a lot of people out. I've been across the bridge in winter storms and in strong crosswinds on a motorcycle. It can be ... "interesting" but only one car has ever gone over the bridge, and no motorcycles. They do a really good job of closing the bridge when the weather is bad, but you want to go slowly. However you don't want to stop.

If you really can't go over the bridge on your own, they Bridge Authority does offer a service where they get you and your car across the bridge without you driving. I don't think this works for motorcycles.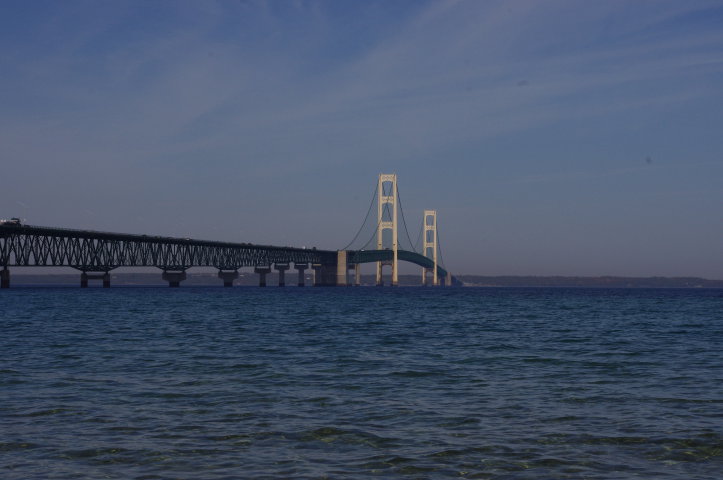 The U.P. (Upper Peninsula, or Yooper Land)
St. Ignace: Paula and I really love this town. All around are t-shirts and signs reading, "St. Ignace: a drinking town with a fishing problem". But still...it's a nice place. Very tourist dependent, but also appears to have a little life of its own beyond tourists.

Right after you cross the bridge, you come across the US-2 exits. West takes you deep into the UP, East takes you to downtown St. Ignace. Not taking either exit leaves you on I-75, next stop, Sault St. Marie! I'd suggest the East exit.

We like to stay at the Quality Inn Lakefront, in large part because their rooms are quiet, their prices are good, and they seem to know who we are, and often give us hot tub rooms. Though really, we've not been disappointed by any of the places we've stayed there, bang-for-the-buck-wise, at least. Driftwood was small, older stuff, but dirt cheap, and seems to be a favorite for motorcyclists and snowmobilers. There are many places to stay in St. Ignace, but some do close in the winter months.

Places to eat/go/etc/:

Java Joe's: Run by a guy named Joe, a guy you don't know, but will be friends with about two minutes after meeting him. Actually in peak season, maybe not, as the place will be too busy for Joe to get too personal. Great place for breakfast, though when busy (which is "usually"), it tends to be slow, so don't be in a rush, enjoy the teapots, the art, the people. Get an order of cinnamon bread sticks, "they're sooo good", as Joe will say. Sounds absurdly simple, and it is, but...sooo good. Forget diets, fasting, etc. Besides, you will be doing some walking later. Easy walk from Quality Inn. Open year round, more or less, though hours vary over the year.


Jose's Cantina: As Jose (who looks an awful lot like Joe from Java Joe's) says, "Only Mexican restaurant within 70 miles!". The food is good, the people are great, and it's run by Joe/Jose. They've bent over backwards to take good care of us. Tell Joe and Steve Nick and Paula say hi! Also an easy walk from Quality Inn, Lakefront.

Note that Joe and Jose are both(?) vegetarians, so both Joe's and Jose's are good places to get a meat-free meal. Joe and Jose's wive(s?) are NOT, so there's good food there for meat-lovers, too. Though if business is slow and mostly regulars who know him, Joe/Jose might be seen bringing out food, asking "Who ordered the dead pig?"

Driftwood: Restaurant/Bar/Motel: Good food, good people. Motel is spartan, but cheap...and obviously loved by motorcyclists, snowmobilers, etc. It is usually the first place in town to put out the "No Vacancy" sign, but they will still happily serve you food. They have ALSO bent over backwards to take good care of us at the restaurant.

Fireworks: Apparently, St. Ignace has fireworks displays on Saturday Nights throughout the summer. We have managed to never be there on a Saturday night in the summer.

Mystery Spot: Blatant tourist trap, basically a "disorient the heck out of you, and make you wonder why water appears to be flowing up hill and why are you able to walk on this wall?" kinda place. Expensive for what it is, but if you have never been to one of these places, you should. Maybe an hour total.

Cut River Bridge, 25 miles on US-2 West of St. Ignace: (I understand this is under construction currently - 7/5/2018) You actually get to walk along...and UNDER the bridge. There's a good barrier against traffic, but you WILL know when a truck goes by you at 50MPH just a few feet away. If you want to hike, you can walk all the way down to the river. You do not cross US-2 -- you go down a staircase on one side, cross under US-2, pop up the other side, walk along the road (in the barricaded sidewalk) to the other side...quite fascinating. A little scary. Rather unique. Probably can spend as little as 15 minutes there, and if you want to walk down to the river or lake, could probably spend an entire day. I drove over this bridge many many times with no idea how interesting it was until I was told to look at it by Java Joe. The bridge is 147 feet over the river! I never would have dreamed that, I usually thought of myself at being "near lake level" when driving over it. If you end up on US2, I really recommend stopping here, it's very different and free. You can park on either side of the bridge.

Lake Michigan Beaches along US-2: Between St. Ignace and the Cut River Bridge, US-2 hugs Lake Michigan, with some very very nice beach front between the road and the lake. We are talking about TWO MILES of beach here...and you can pull your car over to the side of the road and get out and play in the lake or on the beach. Many of them face west, if you get a chance to watch the sunset over Lake Michigan, it's highly recommended. About 11 miles west of St. Ignace.

Lehtos' Pasties: This is one of the (debatably) best and highest regarded UP Pasties around. On US-2, about six miles west of St. Ignace. They sell 'em warm, cold, frozen. Get a few warm, then eat on the beach... (don't forget the ketchup. While some like gravy on their pasties, supposedly ketchup is more authentic Yooper.)

Mackinac Island: Fun boat ride. Some people love the romance of a town with no motor vehicles (other than golf carts on the golf course, and construction equipment). Lots of shopping, lots of fudge shops. Personally, the smell of horse poop makes me miss my car horribly. Hint: don't step in any puddles. ("Why not?". Paula asked me. "Because it hasn't rained recently". "Oooohhh!!!!"). There are three ferry services to the island, they are careful to make sure they are all the exact same time in transit, and I believe the prices are pretty darned close, too. You can spend anywhere from an hour to several days on the island (I imagine you get used to the smell eventually). Some call it one of the Jewels of Michigan. I say "horse shit". If you have never been there, you should go. I'll admit my obsession with the smell is seemingly a minority opinion (and they DO have a small army of people cleaning up after the horses, so it isn't like it's a rotting cesspool. Just stinky). Note, you can get to Mackinac Island from either St. Ignace or Mackinaw City. I like crossing the bridge, so I've never had any thought of going from Mackinaw City.

There is (may be?) a new Mackinac Island ferry option -- one of the ferry services has a "historic" ferry, much slower and somewhat cheaper than the usual choices. As I enjoy the boat ride more than the island, this would be my choice. Worth checking out.

And yes, we've actually taken the boat to the Island, spent 15 minutes on the island, and hopped back on the next boat back. I do enjoy the boat ride.

Soo Locks, Sault St. Marie: This is a U.P. Must See. When you get to the Soo Locks, your first indication of anything interesting is a very large building...which you may realize is moving, either side to side or up and down. That's no building, that's a ship in the locks. There's an observation platform where you can be as little as 30ft from a 700ft long freighter (somewhat further from the 1000ft freighters). Some days, you will have to wait to see a ship, other days, the ships will be stacked up waiting to use the locks. If you don't see a ship when you get there, first stop should be the visitor's center to find out when the next ship is planning on locking-through. If soon, get out there and watch the entire process. If not, tour the visitor center, learn how the locks work, how they were built, etc. If really not soon, wander up and down the main drag opposite the locks, lots of fun shopping, eating, etc. Paula and I usually do day trips into the Soo, usually either moving on to Tahquamenon Falls or back to St. Ignace, but day or days could be spent in the Sault. St. Ignace -> Soo Locks -> Tahquamenon Falls -> St. Ignace is a doable, though long day.

The best parking in Sault St. Marie is with meters, have a pocket full of quarters...though if I recall properly, $2 in quarters will cover you for a whole day. There is free parking, but if you see a ship locking through, park close, stuff the meter with money and run!

Things to look for while watching a boat lock through:

Front of the ship -- you will often see a burst of water disturbance at the very bow of the ship, sometimes accompanied by a burst of diesel smoke coming from a small stack at the front(!). That's a bow thruster -- almost all lake freighters now have them, either when built or retrofitted. It's a 500-1500hp electric motor that blows water either direction through a hole in the bow, that allows the nose of the ship to be positioned accurately at very slow water speeds (i.e., in the lock).

If watching the water rise in an empty lock, look for eddies in the water, that's from the water inlets/outlets that run the entire length of the lock (why not just at one end? they want the water LIFTING/LOWERING the ship, not pushing it forwards or backwards in the lock.

Note the booms, like crossing gates, at both ends of the lock. Not sure if they are there to stop a run-away freighter from ramming the lock gates, or just say, "hey. don't go past this...pllleeeeeaaassseeee?"

When a freighter is right in your face, note the self-unloading boom ("self-unloader") -- often around 200-250ft in length, swings out to unload cargo quickly. Most, but not all, lake freighters have self-unloaders...most have the boom, though there are a few oddballs out there that have other mechanisms (and are thus restricted to which ports they can dock at).

get pictures of all freighters you see, including their names. Look 'em up on boatnerd.com to learn more about them. And I'll want to see what ones you saw. :) Keep an eye out for the Stewart Cort. If you see it, wave to it for me. It's the Great Lakes first 1000ft ship, I've seen it four times in my life -- once when I was about seven years old, on its maiden voyage past Port Huron, and not until just a few years ago several times at the Soo Locks. It has one of those odd self-unloaders, and thus never comes down Lake Huron.

There are Soo Lock Boat Tours, both simple go through the locks, sometimes on your own, sometimes WITH a big freighter, and a "dinner cruise". We have not yet managed the dinner cruise, the lock tour was great. Recomended.

Point Iroquois Lighthouse: You can hit this between Sault St. Marie and Tahquamenon Falls. It's another lighthouse tour, similar to the Mackinaw City lighthouse, but a lot less people there. What I said about the spiral staircase in Mackinaw City applies here..and then some, as this is a tighter spiral. Once you get to the top, quite a view.



Getting here from Sault St. Marie requires hugging Lake Superior, probably a longer drive than dipping down to M28 then back to M123, but we found it a fun drive...and tripped across this light house in the process.

Tahquamenon Falls: There are actually TWO stops -- the upper and lower falls. You want to go to both. If you paid the $10 extra for your Michigan license plate, free admission to this state park. At the lower falls you can rent a canoe and paddle out to an island to see the lower falls from the other side (under the falls...you won't be going over them in a canoe you rent there). The lower falls are a bunch (four or five) of smaller falls, the upper falls is one really big, impressive falls. Tourist-trappy stuff at both, more at upper falls, iirc. Lots of walking, and good hiking opportunities, if you are into such things. There are two long sets of stairs you can take at the upper falls. One puts you near the edge of the falls, the other puts you at lower river level a long ways from the falls. The stairs near the falls are worth taking, the ones further away...I don't think so (though if you were going to hike around the area, I believe the other stairs were a better start/end point). Apparently, you used to be able to walk BEHIND the upper falls, not permitted any more (supposedly. Someone I shared this info with told me he walked behind the upper falls. Life is dull when you follow the rules). Getting to Tahq falls is a long drive, it is in the middle of not-much, and no roads go directly there and back..it's a long, looping, and if you don't have a map or GPS, confusing drive.

I find the late afternoon sun less than optimal for viewing the falls (you end up looking into the sun), so my recommendation is to get there before the sun gets too low.
Western UP
So far, I've mostly covered the eastern UP, I have LOTS to say about the more Western UP, but I haven't got it done yet. But here are a few points: